Eastern Wild Turkey
Please be patient while these pictures load!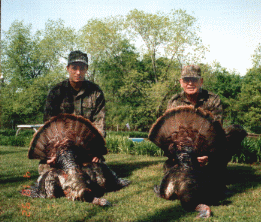 William Malone, Jr. & father, Billy Malone
with a double kill for the morning's hunt!
---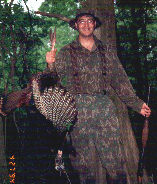 James Fendley called this late season bird right to him.
---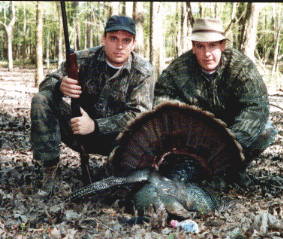 Mark Coffman downed this double-bearded gobbler
at mid-morning. After remaining silent for over an
hour, the gobbler finally came to the hunters' calls.
---
Another double turkey kill in the Swamp!
---
Learn much more about the Gobblers of the Horn Swamp at the Turkey Page.

---
---
[ Home ] [ Latest News ] [ The Swamp ] [ Hog Hunting ] [ Hog Trapping! ] [ Wild Turkeys ] [ Swamp Scenes ] [ Whitetail Deer ] [ Rabbits ] [ Photo Album ] [ Lodge ] [ Catfish ] [ Weather Page ] [ Brittany Page ] [ Annual Campout ] [ Hunt Alabama ] [ Camp Recipes ] [ Great Outdoor Websites ] [ Guestbook ] [ Wilcox County, AL ] [ Search ]